HOLIDAY HUSTLE 2015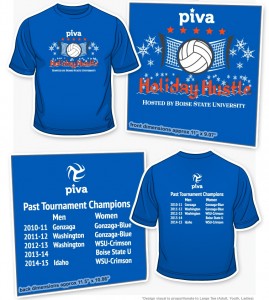 If you haven't heard, our first PIVA Tourney of the Year is #HOLIDAYHUSTLE !
HOLIDAY HUSTLE is NOVEMBER 7th & 8th at Boise State University.
Registration fees are $100 per team per gender. Deadline to register for the tourney is October 28, 2015!
To Do List:
PIVA Registration Forms and Fees will need to be turned in preferably by the end of October!
USAV Registrations will be enforced at the first tourney so please encourage your players to get them done!
Have your PIVA Roster turned in by the end of October. If need be, you can bring them to Holiday Hustle.
Send in your HOLIDAY HUSTLE Registration Form and Fees. You can also bring the payment portion to the actual tourney.
The following teams are planning on playing at the tourney thus far!
Men's: GONZAGA A & B, WSU A & B, IDAHO, WWU, BOISE STATE, PSU, WALLA WALLA
Women's: WSU CRIMSON & GRAY, BOISE STATE, UW, IDAHO, GONZAGA
Keep those forms coming or just send an email to piva.volleyball@gmail.com.
GO PIVA!!